Health Care Services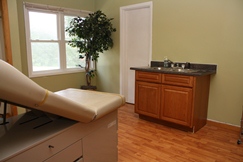 Health Clinic
Good health practices and access to a broad range of medical services are essential to the well-being of the residents of Hope Hill. To this end we are excited to announce that a new medical clinic has been opened on our campus.
Overseeing this clinic is Hope Hill's full time Licensed Practical Nurse who conducts health screenings, manages resident medical and health needs, and coordinates efforts in infection control and universal precautions. During weekends and non business hours the nurse is on-call and available for medical consultation. All youth admitted to Hope Hill receive an initial psychiatric evaluation and follow-up consultations on an as needed basis.
In addition, through a partnership with the Community Family Clinic, Hope Hill will be able to provide on-site treatment once a week to our girls. At this well-equipped clinic, residents will be able to receive primary medical care, pediatric care, health education, nutritional counseling, gynecological care, and a complete medical assessment. Combining the experience of Dr. Kassis and our resident nurse, our girls will have access to the best medical care around.
This additional service will coincide with our existing psychiatric treatment program which will occupy the clinic's space two days of each month. A Resident Nurse Practitioner will continue to administer initial psychiatric assessments and medication management to our residents, but the new clinic location will provide our staff and residents with a significant improvement in privacy and confidentiality.