Residential Treatment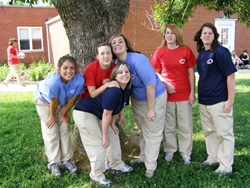 Hope Hill's Residential Treatment Program is an all female facility that provides a personal and safe therapeutic environment for young women in crisis. The facility provides a full array of therapeutic services. Hope Hill has an on-site school with an instructional program featuring individualized curriculum (including GED instruction) designed to meet the unique needs of each student. The school is part of the Montgomery Coutny School District.
Hope Hill provides services for young women with a wide variety of issues and needs. Primarily the facility serves girls with serious histories of sexual abuse and neglect and girls who are chronic runaways. The facility provides specialized individual and group therapy for victims of sexual abuse as well as secure cottages for girls with chronic AWOL issues. Individual and group therapy for youth with substance abuse issues is also provided.
Hope Hill supports family reunification by encouraging families to become involved in the treatment planning process and through individual, group and family therapy. When needed family therapy is offered after hours and on weekends. Hope Hill facilitates regular communication between youth and family members, transports youth to their homes for home visits, and provides for on campus family visitation (including no-cost accommodations for approved visiting family members).