Independent Living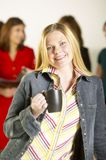 At Hope Hill we are determined to provide the youth from both our Residential Treatment Program and the Therapeutic Foster Care Program with every opportunity to succeed well after their time with us has expired. To us there is no greater precondition for ensuring this success than a quality education. That is why we are so enthusiastic about the addition of our new Independent Living Program.
The program is designed to work specifically with youth in state custody who are over eighteen and would like to pursue their educational goals. With two youth already attending school this Fall and one beginning in the Spring, we are thrilled to see these
opportunities beginning to open up for our youth.
The Independent Living Program will allow us to help kids without proper parental support to further their education and learn to live on their own. These young adults will learn how to apply for a job, maintain a job, open a checking account, manage their finances, set up an apartment, and schedule classes among other things. Youth in this program are expected to maintain a 2.5 GPA, have a part-time job and must pass random drug screens.